In our production we attach a great significance to the highest quality materials.
Our leather goods are made of both Italian and Polish natural leather, as well as in the economic version of leather-like PU materials.
Kroen presents products that guarantee the best quality and client satisfaction. We have acquired wide knowledge about materials available on the market. The ones that we have introduced in our offer, have the best quality. To meet the vast requirements of our clients, we offer both products from natural and artificial leather.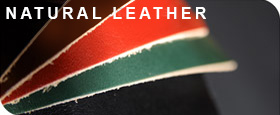 Leather is the noblest material used in the production of gallantry. The texture, touch and smell of leather make the products made of it unique for their users. Natural yokes emphasize even more the uniqueness and uniqueness of a leather product. For the production of our products we carefully select only excellent quality Italian leather. We bring them from places where they have been developed for generations and cultivate the tradition of their production. These are the best materials with a beautiful natural look, which cannot be confused with any substitutes. Our precise workmanship gives them class and unusual character.
KENYA
It is the highest quality vegetable tanned natural cowhide leather of Italian origin. Natural irregular yokes can be seen on the face of this skin. Its exclusive character is emphasized by the glossy finish. Thanks to the effect of discoloration obtained during the pressing process, it is perfectly suited for placing the company logo on it. A specific smell and softness to the touch are the features that emphasize the exclusivity of this leather.
DERBY:
High quality natural grain leather with aniline finish, light gloss; chrome-plant expedition. Skin is often chosen for those who value prestige at a reasonable price.
TEXAS:
Bovine splitting is also called second cut leather. It is very durable. Being an attractive alternative in terms of price, it is used to manufacture many advertising products.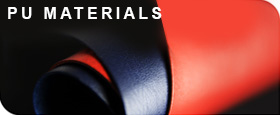 Artificial leather of high quality constitutes a compliment to our offer. For production we use only very resistible and gentle in touch Italian materials. Below you can find artificial leather with variable texture and colour.
VIVA:
A successful PU material with a smooth, matt finish. A wide range of vivid colours and a very nice embossing effect are the advantages of this material.
GLOSS:
A material with a modern character, glossy finish and a clear texture of a fine grid. Perfectly presents itself as a dominant material but also as a decorative insert, in combination with other materials.
MODERNO:
Matt PU material with a clear fine grid structure for a very nice blind embossing effect.
COTTON:
Pleasant to the touch material with a non-uniform colour, matt and just a slightly rough structure.
FROST:
Shiny material with irregular, distinct pattern, appearing in metallic colours.
VARANO:
A material with an intriguing texture imitating the skin of a lizard.
SANDRA:
A high quality artificial leather with glossy finishing that gives products unusual effect. Sandra is very resistible material and that's why it has long-life usage period.